Nissan cars selling well: Profit quadruples despite recalls
Nissan cars were recalled in March, but Nissan still achieved huge second-quarter earnings.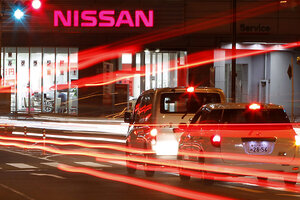 Toru Hanai / Reuters
Nissan's quarterly profit quadrupled and the automaker raised its full-year forecasts as surging sales overcame the drag from a strong yen.
Nissan Motor Co. said Thursday its second quarter profit totaled 101.73 billion yen ($1.26 billion), up dramatically from 25.53 billion yen a year earlier.
Sales at the Japanese automaker, which makes the March subcompact and Leaf electric car, gained 21.4 percent to 2.269 trillion yen ($28.0 billion).
But Chief Operating Officer Toshiyuki Shiga said the company's performance in the October-March second half was unlikely to be as robust because of the rising yen and increases in raw material and engineering costs.
Still, Nissan was upbeat, raising its forecasts for the full year through March to a 270 billion yen ($3.3 billion) profit from an earlier projection of 150 billion yen ($1.85 billion) profit. That would mark a sixfold improvement over the previous fiscal year.
It now expects 8.77 trillion yen ($108.3 billion) in full year sales, better than the 8.2 trillion yen ($101.2 billion) estimated in May.
Those revisions came despite unfavorable currency rates. Nissan had estimated the dollar trading at about 89 yen, but now expects 80 yen for the second half.
The surging yen erodes the value of overseas earnings and hurts Japanese exporters such as Nissan.
---