Medicare pay: Congress works to restore funds it once cut
Medicare pay for doctors was supposed to be cut to fund health reform. Now, Congress is trying to do the opposite.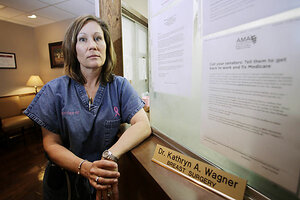 Eric Gay/AP/File
When Democrats passed President Barack Obama's health care overhaul, they used Medicare cuts to pay much of the cost of providing insurance to millions who lack coverage.
Now, lawmakers are reversing the money flow as they scramble to stave off a scheduled 25 percent cut in Medicare pay for doctors on Jan. 1. They've tapped financing for the health care overhaul to keep Medicare from breaking down.
The deal announced by Senate leaders of both parties has Obama's support and appears poised for quick approval by Congress. The $19 billion to pay doctors at current rates for another year will come mostly from tightening the rules on tax credits in the health care law that make premiums more affordable.
It might seem like the proverbial robbing Peter to pay Paul, with a game of budget tag thrown in.
As bewildering as it sounds, the maneuver shows how federal health care funding is increasingly connected — even among programs serving different constituencies. Just last week, Obama's deficit commission called for a single government health care budget, a step to getting costs under control.
"Health care spending is a significant part of the federal budget," said Alex Vachon, a health policy consultant who formerly served as a Senate GOP aide. "So if they are going to go looking for health care money, they're going to want to get it from another health care program."
The move also indicates there could be billions more to be squeezed from such tweaks to the health care law.
Under the overhaul, millions of workers and their families will be eligible for tax credits to help pay insurance premiums. Those subsidies can add up to thousands of dollars per household, available up front each year starting in 2014. The aid is based on income, and people who make less will receive more.
---