GM cars: Good December sales can't make up for poor 2010
GM cars sold better in December than November – up 8.5 percent – but all of the Big Three had a rough year. 2010 was the second-worst year for domestic car sales since 1982.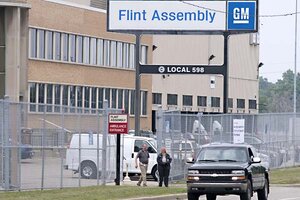 John Ehlke / The Flint Journal / AP / File
Chrysler, Ford and General Motors reported solid December sales gains, capitalizing on consumers' migration back to pickup trucks, SUVs and crossovers — despite gas prices that spiked as much as 40 cents a gallon.
For the year, U.S. auto sales totaled 11.6 million vehicles, an 11.1 percent gain from 2009's 30-year low of 10.4 million.
Despite the improvement, 2010 was still the second-weakest year since 1982.
In all, the Detroit Three expanded their collective market share to 45.1 percent in 2010 from 44.2 percent in 2009 — thanks to a strong close. December sales were up 16.4 percent for Chrysler, 8.5 percent for General Motors and 6.8 percent for Ford.
Some others did even better, though. Sales were up 32.6 percent at Hyundai, 27.7 percent at Nissan and 21 percent at Honda. Toyota was the only major automaker to report lower December sales, with a decline of 5.5 percent.
Forecasts for 2011 sales range from 12.5 million to 13.5 million, but optimism remains cautious.
"We expect the depressed housing market and slow employment growth to be somewhat of a drag ," said Don Johnson, GM vice president of U.S. sales operations.
---