Heating oil prices rise after Alaska pipeline leak
Heating oil prices rose 6.25 cents and gas prices rose 3.83 cents while crude oil surged to over $89 a barrel after a leak shut down the 800-mile (1,300-kilometer) trans-Alaska pipeline.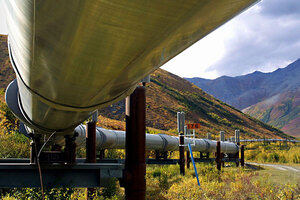 Al Grillo / AP / File
Oil prices rose above $89 a barrel Monday after the 800-mile (1,300-kilometer) trans-Alaska pipeline owned by BP PLC and four other companies was shut down because of a leak.
Benchmark oil for February delivery climbed $1.24 to $89.27 a barrel in midday trading on the New York Mercantile Exchange.
The pipeline, which carries between 630,000 barrels and 650,000 barrels a day, was shut down Saturday after a leak was reported at a North Slope pump station. The leak has been contained but there is no immediate timeframe for reopening the pipeline, according to Alyeska Pipeline Service Co., which manages the line.
The closure cut oil production on the North Slope to about 5 percent of normal. The pipeline carries about 17 percent of the U.S. crude output.
Refineries that rely on Alaska crude have several weeks of inventories available so prices aren't expected to top $100 a barrel because of the closure, according to The Schork Report, an energy consulting firm.
"We don't believe the news as it stands is enough to push crude oil above the $100 barrier," The Schork Report said. "If production is reduced to 5 percent until March or April, then we'll change our mind."
---