Madoff settlement: Defrauded investors get $7.2 billion
Madoff settlement, approved by US judge, returns money from an estate that benefited from the Ponzi scheme.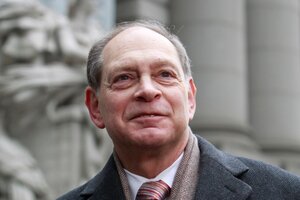 Brendan McDermid/Reuters/File
A historic $7.2 billion deal was approved Thursday to settle a lawsuit brought against the estate of one of the oldest and wealthiest clients of disgraced financier Bernard Madoff.
U.S. Bankruptcy Judge Burton Lifland signed off on the Madoff settlement at the urging of a court-appointed trustee seeking to recover funds for thousands of investors burned by Madoff's epic Ponzi scheme.
"This is a unique and great day for customers of (Madoff's firm)," trustee attorney David Sheehan said Thursday at a hearing in federal bankruptcy court.
Lawyers representing a handful of former Madoff customers opposing the settlement signaled they will appeal — a move the judge warned could further harm wiped-out victims waiting to recover at least a portion of their life savings.
"You must take into account the effect of these delays," he said.
Trustee Irving Picard and federal authorities reached the settlement last month with the estate of Jeffry Picower, a businessman and philanthropist who drowned in 2009 after suffering a heart attack in the swimming pool of his Palm Beach, Florida, mansion. Federal prosecutors have called the forfeiture the largest in Justice Department history.
Picard had sued Picower in a so-called clawback litigation, alleging his earnings from Madoff consisted of money stolen from other investors. However, Picower's widow, Barbara, has insisted he was in the dark about the fraud and he was never charged with a crime.
---