Comcast wins OK to buy NBC
Comcast purchase of NBC will make it a media powerhouse, although regulators insisted upon certain conditions to ensure competition.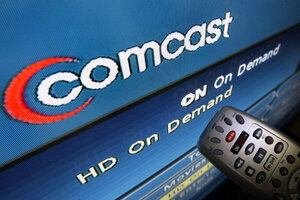 Elise Amendola/AP/File
Government regulators on Tuesday gave Comcast Corp., the country's largest cable company, clearance to take over NBC Universal in a deal that is certain to transform the entertainment industry landscape.
Comcast is buying a 51 percent stake in NBC Universal, home of the NBC television network, from General Electric Co. for $13.8 billion in cash and assets.
The Justice Department and five state attorneys general said Tuesday that they have reached a court settlement allowing the companies to proceed with their combination, subject to conditions intended to preserve competition among TV providers.
In addition, the five-member Federal Communications Commission on Tuesday voted 4-1 to approve the transaction, subject to similar but broader conditions.
Among other things, regulators are requiring Comcast to make NBC programming available to competitors such as satellite companies, as well as new Internet video services that could pose a threat to the company's core cable business.
---