Data plans: $30 for unlimited use of Verizon iPhone, but...
Data plans for Verizon iPhone will include an option for unlimited use for $30 a month, Verizon confirms, vowing not to mess up next month's launch. But the unlimited data offer won't last.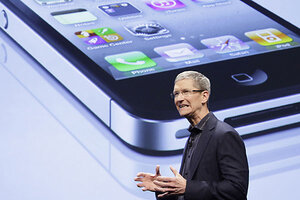 Mark Lennihan/AP
Verizon Communications Inc. vowed Tuesday not to mess up its iPhone launch next month.
It's a bold boast, considering how problematic the iPhone has been for its exclusive U.S. carrier so far, AT&T Inc. The iPhone 3G launch in 2008 was accompanied by a server meltdown, which left people unable to use their phones for as long as a day. The phone later overloaded AT&T's network in many areas.
Verizon believes it has learned from AT&T's mistakes since its first iPhone in 2007. Through last year, Verizonadded capacity to its network with the iPhone in mind.
"We're not going to have any flaws on the execution of the iPhone launch," Chief Financial Officer Fran Shammo told Wall Street analysts on Tuesday.
Verizon announced two weeks ago that it would start selling Apple Inc.'s iPhone on Feb. 10. AT&T's exclusive hold on the phone has left Verizon behind in attracting smart-phone subscribers, but it now hopes to catch up.
However, the company doesn't have a good idea of how many iPhones it might sell. Refusing to give a projection, Shammo would only acknowledge that the average analyst forecast is for 11 million units this year, roughly the same amount AT&T sold in the first nine months of last year. Analyst projections vary from 5 million to 13 million.
---