Medicare: Time to privatize? GOP ponders.
Medicare could be replaced with a fixed payment to buy private insurance, according to one Republican proposal.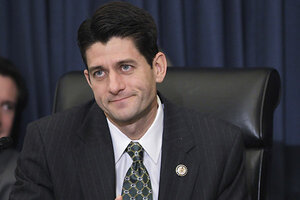 Charles Dharapak/AP
Months after they hammered Democrats for cutting Medicare, House Republicans are debating whether to relaunch their quest to privatize the health program for seniors.
House Budget Committee Chairman Paul Ryan, R-Wis., is testing support for his idea to replace Medicare with a fixed payment to buy a private medical plan from a menu of coverage options.
Party leaders will determine if the so-called voucher plan will be part of the budget Republicans put forward in the spring.
"No decisions have been made on the details of our House GOP budget." Michael Steel, a spokesman for Speaker John Boehner, R-Ohio, said Thursday. "There are a lot of ideas out there, and we're going to listen to our members and the American people."
Medicare was one of the most highly charged issues during last year's congressional elections, which put the House back in GOP control. Republicans slammed Democrats for cutting Medicare by about 6 percent over 10 years to finance President Barack Obama's health overhaul.
But replacing Medicare's open-ended benefit with a fixed payment would cut projected spending much more deeply.
"Anyone who doesn't think privatization will mean severe cuts to Medicare benefits, I have a bridge I'd like to sell them," said Sen. Chuck Schumer, D-N.Y. "Privatization will make the cuts previously proposed by either party look tame."
Republicans say it may be the only way to preserve taxpayer-funded health care for seniors in an aging society. The Congressional Budget Office reported this week that the government will borrow 40 cents of every dollar it spends this year, as the deficit hits a staggering $1.5 trillion. Over the long term, health care costs that keep growing more rapidly than the economy are the biggest challenge to the budget.
---