Ford considers hiring more workers. Sales soaring.
Ford sees 27 percent rise in consumer demand for its cars, trucks. Supplies of Ford Explorers, built in Chicago, especially low.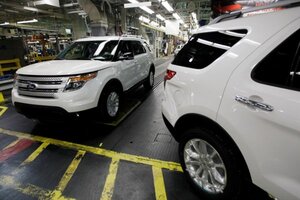 M. Spencer Green/AP/File
Ford Motor Co. will increase factory production 13 percent in the first quarter because of higher demand for Ford and Lincoln brand cars and trucks, and further increases are likely through the year, company executives said Sunday.
The Dearborn, Michigan, automaker said its sales to individual buyers rose 27 percent in January, a strong increase that shows demand for Ford products like the Explorer sport utility vehicle is on the rise. Ford'soverall sales, including those to big fleet buyers such as rental car companies, rose 9 percent last month.
"We're trying to catch up to just the customer demand," Jim Farley, Ford's global marketing chief, told reporters at the National Automobile Dealers Association conference in San Francisco.
The first-quarter increase, to 555,000 vehicles, could mean additional jobs. U.S. sales chief Ken Czubay saidFord is studying whether to add a third shift to factories that now are on two shifts and working overtime. The company also could add production by raising the assembly line speed or by paying more overtime to extend work time.
Czubay said demand for vehicles like the revamped Explorer has been so high that the company has only a "single-digit" days' supply of the model on dealer lots. Automakers like to have around 60 days worth of a product so customers have adequate selection.
Ford's Chicago plant is most likely to get additional jobs or overtime because it builds the new Explorer. It's based on a car chassis and gets better mileage than the old Explorer, and arrived at dealers late last year.
---