Toyota recall investigation reports cars are 'safe'
Toyota recall of cars with 'sticky' gas peddles is not due to an electronic cause, government says after 10-month investigation.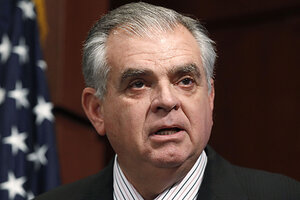 Kevin Lamarque / Reuters
WASHINGTON (AP) — The Obama administration's investigation into Toyota safety problems found no electronic flaws to account for reports of sudden, unintentional acceleration and other safety problems. Government investigators said Tuesday the only known cause of the problems are mechanical defects that were fixed in previous recalls.
The Transportation Department, assisted by engineers with NASA, said its 10-month study of Toyota vehicles concluded there was no electronic cause of unintended high-speed acceleration in Toyotas. The study, which was launched at the request of Congress, responded to consumer complaints that flawed electronics could be the culprit behind Toyota's spate of recalls.
"We feel that Toyota vehicles are safe to drive," said Transportation Secretary Ray LaHood.
Officials with the National Highway Traffic Safety Administration said they reviewed consumer complaints and warranty data in detail and found that many of the complaints involved cases in which the vehicle accelerated after it was stationary or at very low speeds.
NHTSA Deputy Administrator Ron Medford said that in many cases when a driver complained that the brakes were ineffective, the most likely cause was "pedal misapplication," in which the driver stepped on the accelerator instead of the brakes.
Toyota has recalled more than 12 million vehicles globally since fall 2009 to address sticking accelerator pedals, gas pedals that became trapped in floor mats, and other safety issues. The recalls have posed a major challenge for the world's No. 1 automaker, which has scrambled to protect its reputation for safety and reliability.
---