747-8 Intercontinental ready for primetime
747-8 Intercontinental: Boeing's biggest plane ever is the 747-8 Intercontinental. The Chicago-based company debuted the 747-8 Intercontinental to unexpectedly slow sales.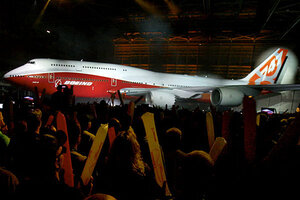 Michael O'Leary/The Herald/AP
Boeing Co (BA.N) rolled out a new jumbo jet on Sunday, hoping to relive the glamour of the birth of the 747 over 40 years ago and use it to boost slow sales.
The 747-8 Intercontinental will seat 467 passengers, 51 more than the current version of the 747, and burn less fuel while offering passengers more comfort, the U.S. planemaker says.
"Of all the airplanes that we've built, there is one that is identified more closely with Boeing than any other, and that's the 747," said James Albaugh, head of Boeing's commercial airplane unit, introducing the plane to a crowd of almost 10,000 Boeing employees, their families and a select group of industry VIPs.
The event took place in the same hangar at Boeing's Everett plant outside Seattle where the first jumbo made its debut in 1968.
Near the front of the seated audience was Joe Sutter, Boeing's chief engineer on the original jumbo, and known as the "father of the 747."
The plane itself, unveiled from behind an enormous curtain to rapturous, thudding music, was bright red and white -- a departure from Boeing's recent blue -- bearing generic Boeing livery on the side and '747' on its orange tail.
The unveiling came almost 42 years to the day since the maiden flight of the 747, which went on to become the world's most recognized jetliner and transformed the global travel industry.
It is the first appearance of a radically new version of the passenger jet since the first jumbo, with its humped two-storey cabin and 196-foot (69-meter) wingspan, took the world's breath away on a sunny morning at Everett in September 1968.
"People were awe-struck. It was a monster, nobody had seen anything like it," said Jim Mullins, a Paris-based science writer who covered the original rollout for King Broadcasting.
---