Soda tax may be getting the axe in Colorado
Soda tax repeal: A proposed repeal of the soda tax in Colo. could save soda drinkers 2.9 percent but cost the state $12.3 million.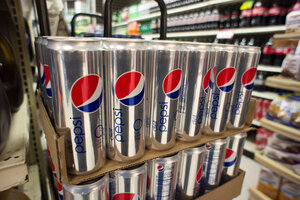 Richard Levine/Newscom
Coke, Pepsi and other soft drinks would get a little cheaper in Colorado under a Republican plan to repeal sales taxes on soft drinks, but the proposal faces an uphill climb against the state's budget crunch and rising obesity rate.
Coloradans didn't pay the 2.9 percent sales tax on sodas until March 2010, when lawmakers looking for money and ways to confront obesity levied the tax on soft drinks and candy. The often-sugary items previously were considered foods exempt from state sales taxes.
The proposal before a House committee Wednesday takes aim at the soda tax — but leaves the candy tax in place. Rep. David Balmer of Centennial says his bill will help struggling families save a few pennies at the grocery store.
"The tax is falling on families all across Colorado, and I don't believe the Legislature should be singling out certain beverages and taxing them," Balmer said.
He pointed out that diet sodas are a healthier choice than some sugary juices and sports drinks.
"It's unfair to tax soda," Balmer argued.
The proposal has the support of the powerful Colorado Beverage Association, which represents vending-machine operators and the bottlers that deliver products from companies like The Coca-Cola Co. and Pepsico Inc. CBA's executive director, Chris Howes, says the Legislature acted irrationally when it repealed the sales-tax exemption for candy and soda.
---