BlackBerry maker RIM loses head of marketing
BlackBerry has another challenge ahead of the launch of their new PlayBook tablet - the head of RIM's marketing is leaving the company. After losing brand cachet, can the company catch up?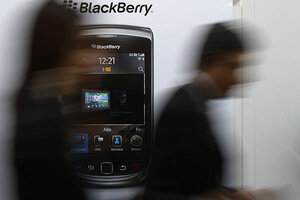 Tobias Schwarz/Reuters
The head of marketing for Research In Motion will leave the company in six months, raising questions about BlackBerry branding as the smartphone maker gets set to launch its long-awaited PlayBook tablet.
Keith Pardy, who joined the Canadian technology company in December 2009, decided to leave for personal reasons, RIM said in a statement on Friday. He will stay with the company for the next six months to help with transition.
His surprise resignation comes weeks before the expected launch of RIM's PlayBook -- almost a year after the introduction of Apple's iPad tablet. The RIM offering will also have to compete against devices powered by Google's Android platform.
The appeal of the BlackBerry brand - once equal with Apple's -- has withered under Pardy's stewardship, according to a January ranking from Brand Keys consultancy.
"The brand's been losing resonance over the past few years. It does not have the brand cachet ... to engage consumers the way an iPhone does," Brand Keys president Robert Passikoff said.
---