Netflix announces first exclusive TV series deal
Netflix will be the only place to watch 'the most sought after premium series.' Competing more directly than ever with pay TV channels like HBO, Netflix is flexing its muscles with the new 26 episode deal.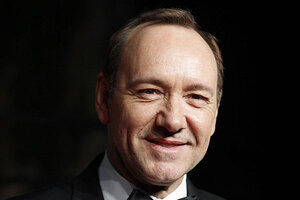 Danny Moloshok/Reuters
Netflix Inc.'s Internet video streaming service will be the only place to watch an upcoming TV series with a high-powered pedigree that includes Academy Award-winning actor Kevin Spacey and the director of an Oscar-nominated film about Facebook.
The deal announced Friday illustrates Netflix's growing clout in Hollywood as its mines revenue from its 20 million subscribers to create new home entertainment options. In this instance, Netflix will be showing a series that won't have a scheduled broadcast time. Episodes could be released in bunches instead of just one per week.
"It's a show people will be able to discover over time," Ted Sarandos, Netflix's chief content officer, said in a Friday interview. "It doesn't have to happen over the first week, first month or even the first year of the show."
Netflix didn't disclose how much it is paying Media Rights Capital, the studio behind "House of Cards." The agreement covers 26 hour-long episodes, an usually large commitment for a series that hasn't even entered production. The series will debut on Netflix late next year.
---