Dish Network, Carl Icahn bid to buy bankrupt Blockbuster
Dish Network and billionaire Carl Icahn are among those bidding for buy the video chain in a Manhattan bankruptcy court.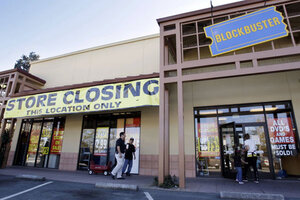 Paul Sakuma/AP
A bankruptcy auction of Blockbuster Inc was set to stretch into a second day after preliminary talks between bidders and the movie rental chain's representatives dragged on late into the day on Monday, a company spokesman said.
Blockbuster did not say how many bidders it attracted, but halls outside the auction room in Manhattan bankruptcy court were packed with attorneys and investment bankers refining their bids throughout the day.
In a room set aside for reporters, a video of the auction room was being played without sound, as the preliminary discussions were private.
With talks wrapping up Monday evening, the bidding itself is set to take place on Tuesday and will be public, said Blockbuster spokesman Michael Freitag.
Once the world's largest movie rental chain, Blockbuster had a market cap of more than $5 billion at its peak in 2002 but came under pressure from mail-order and digital competitors such as Netflix Inc. The company put itself up for sale in February after a reorganization plan fell apart.
The next owner could preserve Dallas-based Blockbuster as an ongoing business, though bidders also have the option of liquidating the company, or closing it down. Proceeds of the sale will become part of the bankruptcy estate.
---