Gas prices rise, demand begins to slip
Gas prices have risen above $3.50 a gallon in most of the US. With gas prices rising, Americans are cutting back on trips to the pump.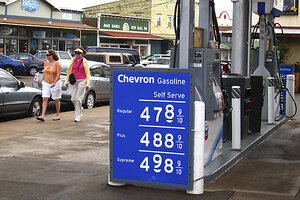 Mike Blake / Reuters
With gas prices above $3.50 a gallon in all but one state, there are signs that Americans are cutting back on driving, reversing a steady increase in demand for fuel as the economy improves.
For five consecutive weeks, Americans have bought less gas than they did a year earlier, according to MasterCard Spending Pulse, which tracks the volume of gas sold at 140,000 service stations nationwide.
For the week of April 1, drivers bought about 2.4 million fewer gallons than they did one year earlier, or 3.6 percent. That was the biggest decline since December, when people were staying home because of snowstorms.
Before the decline, demand was increasing for two months. Some analysts had expected the trend to continue because the economic recovery is picking up, adding 216,000 jobs in March.
"More people are going to work," said John Gamel, director of gasoline research for MasterCard. "That means more people are driving and they should be buying more gas."
Instead, about 70 percent of the nation's major gas-station chains say sales have fallen, according to a March survey by the Oil Price Information Service. More than half reported a drop of 3 percent or more — the sharpest since the summer of 2008, when gas soared past $4 a gallon.
---