Stocks end up on good economic news
The Dow rose about 56 points, with Merck and DuPont gaining and Bank of America and Cisco falling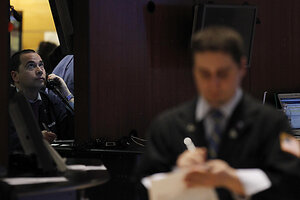 Brendan McDermid / Reuters
By Abby Schultz and JeeYeon Park, CNBC.com
Stocks ended higher as investors took heart from strong economic news and shrugged off disappointing quarterly results ahead of a big week of earnings.
The Dow Jones Industrial Average rose about 56 points to close at about 12,341, and following a choppy session on Thursday. The blue-chip index closed lower for the week, however.
Among Dow components, Merck and DuPont gained, while Bank of America and Cisco fell.
The S&P 500 and the tech-heavy Nasdaq also ended higher for the day.
The CBOE Volatility Index, widely considered the best gauge of fear in the market, fell below 16. During the session, The VIX touched its lowest level since July 2007.
Most key S&P 500 sectors advanced, led by utilities and health care. Technology was the only sector to decline.
A slew of economic reports on Friday that pointed to strength in manufacturing, rising consumer confidence, and subdued inflation, countered the bad news investors saw in some of the first key earnings reports out this week.
"I think the market is showing some resilience today," says Paul Brigandi, vice president, trading at Direxion Funds.
On Thursday the S&P 500 dipped below 1,300, but then began to turn around. "That strength continued to today," Brigandi said. But, he said, "it's a slow, steady climb upward" as much of the good news on the economy and earnings is already factored into stock prices.
Also, prices on Friday may be affected by the monthly expiration of stock futures and options.
Among the day's earnings, Bank of America shares slipped after the financial giant's profit fell short of analyst expectations as mortgage-related losses took a bigger toll than anticipated.
Bank of America's results come two days after rival JPMorgan Chase, the second largest U.S. bank, reported a drop in consumer lending and more than $1 billion in unexpected costs for servicing mortgages related to a settlement with bank regulators.
Google shares tumbled, dragging the tech sector down with it, after the Internet giant's earnings beat expectations, but costs surged by 54 percent. Investors are concerned Google's new chief executive Larry Page is chasing revenue too aggressively and could take his eye off the bottom line, Reuters reported.
Analysts weren't impressed with the results. Citigroup downgraded Google to "hold" and cut the price target on the stock to $650 from $750. And more than 10 other brokerages also cut their prices targets for the company.
Among other tech earnings, Infosys Technologies plunged almost 15 percent after India's No. 2 outsourcing company missed profit expectations as expenses, global uncertainty and a rising rupee squeezed margins.
Mattel gained even after the toy maker reported a 33 percent drop in earnings and saw a bigger-than-expected sales gain. Rival Hasbro was slightly higher despite reporting a 71 percent decline in earnings on Thursday.
Charles Schwab gained after the discount brokerage firm posted higher-than-expected earnings as rising stock markets fueled trading and fees from clients.
Next week will be one of the busiest week for earnings with a parade of Dow components in addition to several banks and tech companies slated to report results.
Among banks, the SEC is in talks to settle fraud allegations with major Wall Street Banks, including Bank of America and JPMorgan Chase, concerning mortgage securities that helped trigger the financial crisis, the Wall Street Journal reported on Friday, citing sources.
Bank of America agreed to pay Assured Guaranty more than $1 billion to resolve disputes over mortgage securities. Other mortgage insurers surged following the news including MBIA and MGIC Investments on hopes that they may also get similar payouts from banks.
---