$4 gas for several US states
$4 gas is the average cost per gallon in six US states now. Will $4 gas spread across the country?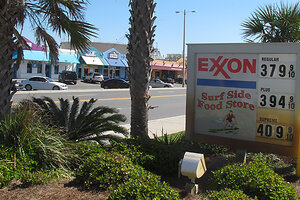 Melissa Nelson / AP
Oil prices fell to near $108 a barrel Monday as gasoline jumped to average $4 a gallon in six U.S. states, raising fears higher fuel costs will undermine crude demand.
News that Saudi Arabia, the world's largest crude producer, had cut its oil output also pushed down prices.
By early afternoon in Europe, benchmark crude for May delivery was down $1.61 at $108.05 a barrel in electronic trading on the New York Mercantile Exchange. The contract rose $1.55 to settle at $109.66 on Friday.
In London, Brent crude for June delivery was down $1.20 to $122.25 a barrel on the ICE Futures exchange.
On Sunday, New York became the sixth state to top $4 a gallon for the average price of gasoline, joining Alaska, California, Connecticut, Hawaii and Illinois, according to AAA's Daily Fuel Gauge. Gasoline in Washington, D.C also averaged above $4.
The national U.S. average for gasoline has increased for 26 straight days, and is now at $3.83 per gallon, up 29 cents from a month ago.
"Oil is reaping the (benefits) of rising commodity prices in general, the dollar's weakness, investor interest and supply-side risks," said analysts at Commerzbank in Frankfurt. "There is no real shortage of oil on the market, though. "
---