One year later: Louisiana seafood still in flux
Historically, certain seafood served in the US has come from Louisiana. But since the BP oil spill last year, the state's seafood output has plummeted.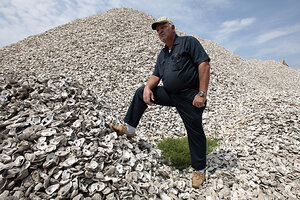 Dave Martin / AP
By Brian A. Shactman, CNBC.com
If you go out to your local seafood restaurant, you might order oysters or shrimp, but the odds are it might not be from Louisiana.
One year after the tragic BP oil spill that killed 11 people and resulted in the worst offshore oil spill in American history, Louisiana's $2.4 billion seafood industry is a long way from returning to previous levels—both in supply and demand.
Take oysters for example. Historically, 20 percent of oysters in this country come from Louisiana. But with beds shut down most of last year, 2010 production was half that of the year before. This year could be worse, even if a majority of harvesting areas remain open.
Reasons for the supply collapse abound.
Various reports and studies say the state's decision to divert fresh water to certain areas to push back the oil resulted in dead oyster beds. Also, oysters businesses couldn't seed new beds.
Finally, several oystermen tell CNBC they think a lot of baby oysters have been killed by the oil, the chemical dispersant or the fresh water.
"We expect it could be way down," said John Tesvich, president of Ameripure Oysters, which is the sole provider to Darden Restaurants . "We really won't know for sure until later in the summer."
Before the oil spill, Ameripure oysters were on the permanent menu at Darden's Red Lobster. Not anymore, and Tesvich does not know when that will change. For now, Ameripure is processing oysters mostly from Texas, with shipments from Louisiana starting to trickle in.
---