Do long hours at work make Americans happy?
Long work hours make Europeans unhappy but give Americans a tiny boost, a new study finds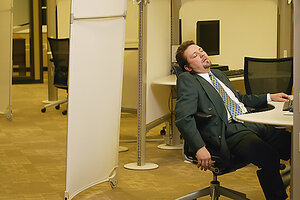 Photo illustration/Darren Greenwood / Design Pics/Newscom
By Joseph Brownstein, LiveScience.com
Americans really do love to work, it seems, while Europeans are much happier if they skip burning the midnight oil in favor of leisure. That's according to a new study finding longer work hours make Europeans unhappy while Americans get a very slight (albeit not statistically significant) bliss boost from the extra grind.
"Those who work longer hours in Europe are less happy than those who work shorter hours, but in the U.S. it's the other way around," said study author Adam Okulicz-Kozaryn, a clinical assistant professor of public policy at The University of Texas at Dallas. "The working hours' category does not have a very big impact on the probability of happiness of Americans."
The study, based on survey data, can't tease out whether work causes happiness or unhappiness, though the researchers speculate the effect has to do with expectations and how a person measures success.
Okulicz-Kozaryn used surveys of European and American attitudes for the study. The surveys included questions about the number of hours worked and asked respondents to identify if they were "very happy," "pretty happy" or "not too happy."
They found that the likelihood of Europeans' describing themselves as "very happy" dropped from around 28 percent to 23 percent as work hours climbed from under 17 hours a week to more than 60 hours per week. Americans, on the other hand, held steady, with about a 43 percent chance of describing themselves as happy regardless of working hours.
---