Stocks end higher, led by materials, energy
After Standard & Poor's downgraded its outlook on US debt Monday and sent stocks downward, stocks rose on Tuesday, with the Dow gaining about 65 points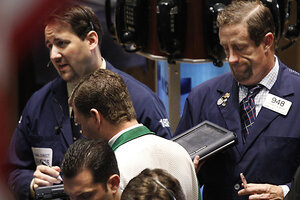 Kathy Willens / AP
By Abby Schultz, CNBC.com
Stocks ended higher amid a slew of largely upbeat earnings and a burst in commodity prices, as the major indices recovered about half of Monday's losses in the wake of Standard & Poor's revised outlook on U.S. debt.
The Dow Jones Industrial Average rose about 65 points to close at about 12,266, following a day when the blue-chip index sank 140 points.
Among Dow components Johnson & Johnson and Caterpillar gained, while Travelers and Cisco fell.
The S&P 500 and the Nasdaq also rose. The CBOE Volatility Index, widely considered the best gauge of fear in the market, fell below 16.
Among key S&P 500 sectors, materials and energy advanced, while telecom fell.
While earnings season is still young, companies have been beating expectations 71 percent of the time, and 4 percent have come in above estimates, according to Thomson Reuters.
What's different this time is there are fewer real surprises, and that's leading to a lackluster market, says Burt White, chief investment officer at LPL Financial.
"Companies are clearing the hurdle, but they are just clearing the hurdle, while others are clipping the jump," White said. But what people are looking for is "not mildly beating, but soundly beating."
Another trend is "consistent growers" in the consumer staples, health care, utilities, and telecom sectors have been leading the market over the last month instead of cyclicals, like materials and industrials, White said. That's because investors are concerned about austerity efforts in the U.S. and Europe and efforts by emerging countries like China to put the brakes on growth to curb inflation.
"This market is really worried about impact of austerity in half of the world, and the battle in the other half to slow inflation, " White said. "Both will be foots on the brake."
Peter Costa, president of Empire Executions, says earnings so far have been "mediocre," and said he is looking to see what companies are doing with the cash building on their books. A lot of companies would like to build their businesses through acquisitions, but the companies they want to buy are too expensive, Costa said.
They are also finding that repurchasing shares doesn't make sense, since many companies are trading at 52-week highs, he said.
Volume in the markets remains sluggish despite the number of earnings reports, in part because of the Passover and Easter holidays. Volume on the consolidated tape of the New York Stock Exchange was 3.7 billion shares, while 843 million shares changed hands on the NYSE floor.
Johnson & Johnson, which rose nearly 3 percent Tuesday following a strong earnings report, is the kind of stable grower investors prefer in this kind of environment, he said.
"I think we're at very early stages of rotation in this market," White said. Investors are "looking for those companies that can be in charge of their own destiny."
---