Verizon rakes in subscribers with help of iPhone
Verizon Wireless added 906,000 wireless subscribers from January to March, which is more than twice as many during the same period last year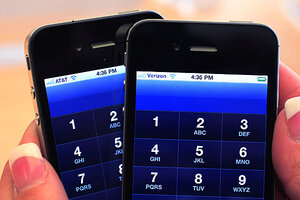 Paul Sakuma / AP
NEW YORK (AP) — Helped by the iPhone, Verizon Wireless is pulling in more high-paying subscribers than it has in a year, and 15 times more than rival AT&T.
Verizon Communications Inc. on Thursday said it added 906,000 wireless subscribers on contract-based plans in the January to March period, more than double the number of a year ago.
Verizon Wireless started selling the iPhone on Feb. 10, ending AT&T's exclusive grip on the device in the U.S.
Verizon said it had activated 2.2 million iPhones, putting it on track to reach the average analyst estimate of 11 million sold by the end of year.
AT&T said Wednesday it had added 3.6 million to its network in the first quarter, helped by the $49 price on the older iPhone 3GS, which Verizon does not sell. AT&T also had three months to sell the phone, compared to one and a half for Verizon. AT&T said it added 62,000 subscribers under contract in the first quarter.
Though AT&T posted a record-low number of new contract subscribers, there was no sign of its existing iPhone subscribers defecting to Verizon for the sake of a more reliable network. Since most subscribers are tied up by two-year contracts, it may take some time for the full effects of Verizon's iPhone to show up in AT&T's numbers, but AT&T's Chief Financial Officer, Rick Lindner, said he was confident subscribers won't start bolting later this year.
---