Jury rejects Mattel's Bratz doll copyright claim
Mattel claimed that the MGA Entertainment employee who designed the Bratz doll did so while employed at Mattel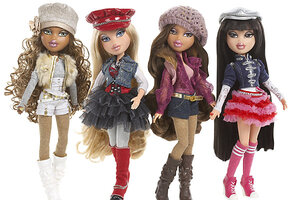 Courtesy of MGA Entertainment / AP
SANTA ANA, Calif. (AP) — The sassy, billion-dollar Bratz dolls appear poised to bully Barbie on toy shelves after a jury rejected Mattel Inc.'s claims that rival MGA Entertainment stole the idea for the wildly popular fashion toy and instead slapped Mattel with more than $88 million in economic damages in a stunning rebuke of the toy giant's claims.
The verdict in U.S. District Court in Santa Ana on Thursday came as a staggering blow to Mattel, which has long claimed it held the copyright for the ethnically diverse, pouty-lipped toys that gave platinum-haired Barbie a run for her money after decades of fashion doll dominance.
The jury, which deliberated for nearly two weeks after a three-month trial, also found that Mattel acted willfully and maliciously in misappropriating MGA's trade secrets. That raises the possibility the judge could also add on punitive damages that could bring the total award to three times the jury's initial findings, attorneys for both sides said.
"This was a business move for Mattel," said Jack Lerner, a professor at USC Gould School of Law who specializes in intellectual property and has closely followed the case. "It wasn't necessarily an attempt to seek justice and compensation for being wronged. Mattel wanted to crush the competition. I think the jury saw through that. I think the jury saw Mattel as a big bully."
Mattel attorneys said after the verdict that they would file a motion for a retrial within two weeks and reserved the right to appeal.
---