CEOs tend to have names like 'Peter,' 'Bob,' and 'Jack,' according to LinkedIn
An analysis of the 100 million or so profiles on the professional networking site LinkedIn has found an unusually high rate of four-letter names among male CEOs. The top female CEO names are 'Deborah,' 'Sally,' and 'Debra.'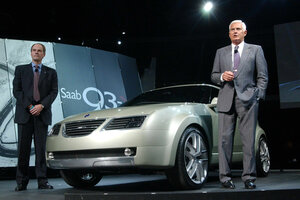 Jeff Kowalsky/AFP/Newscom/File
Hoping to raise a future CEO? Try naming your kid Peter or Deborah. If having a child who grows up to be an athlete is more your style, Ryan, Matt or Jessica might be the way to go.
These are the top names for CEOs and athletes, according to online professional networking site LinkedIn. Drawing from over 100 million LinkedIn profiles, the site has released the most popular names for a variety of professions. Female engineers in the United States, for example, are very likely to be named Kiran, while "Thierry" is the most prevalent name in restaurant and food services worldwide. [Read: Most Popular Baby Names in History]
Names may not be destiny, but some research suggests that what we're called can have long-lasting effects. Boys with names typically given to girls have higher rates of behavior problems in middle school, according to one study. It seems that the boys may be compensating in the face of teasing and insecurity about their names. Having a name associated with low socioeconomic status can influence how people treat you, as can the "race" of your name. In one 2003 experiment published by the National Bureau of Economic Research, resumes sent out under the more "white-sounding" names such as "Emily" and "Greg" got more 30 percent more callbacks than identical resumes sent out under names typically associated with African Americans, such as "Lakisha" and "Jamal."
---