Wal-Mart uncertainty rises with gas prices
Wal-Mart is in a bright spot, for now. But Wal-mart is concerned that high gas prices will cause customers to spend less.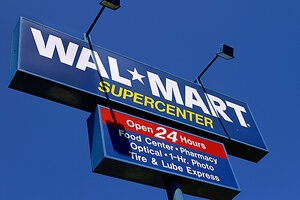 Seth Perlman / AP
NEW YORK (AP) — Strong overseas revenue, growth at Sam's Club, and cost-cutting pushed the income of Wal-Mart Stores Inc., the world's largest retailer, up 3 percent in the first quarter, beating Wall Street expectations.
Wal-Mart's international business, which produces 26 percent of company revenue, is a bright spot.
The international division's revenue rose 11.5 percent to $27.9 billion, led by gains in Mexico, China and Chile. The company's business in Japan was hurt by the earthquake and tsunami.
But rising gas prices are adding another obstacle to Wal-Mart's campaign to reverse a two-year U.S. sales slump.
Wal-Mart, whose headquarters is based in Bentonville, Arkansas, says it is seeing some improvements but needs more time to see whether hammering its low-price message and restocking items it had scrapped can turn around sales.
Wal-Mart offered a cautious second-quarter earnings outlook because of a new headache. It's worried its low-income customers will spend less at its stores as gasoline hovers around $4 a gallon. They're already consolidating trips to the company's discount stores to minimize driving.
Wal-Mart's fears have deep repercussions, because it's a bellwether of consumer spending and accounts for nearly 10 percent of all nonautomotive retail dollars spent in the U.S.
"Despite improvements in some areas of the economy, core Walmart U.S customers are still stretched," said Mike Duke, Wal-Mart's CEO in a prerecorded conference call Tuesday. "They remain concerned about rising prices for gas, energy and food as well as employment issues. Customers trust us to be their ally in fighting rising gas prices and inflation."
U.S. Walmart stores, which represent 62 percent of the company's business, posted their eighth straight quarter of revenue declines at stores open at least a year. The revenue figure compares revenue with the same quarter a year earlier and excludes stores that opened or closed during the year. It's an important measure of a retailer's health.
To reverse the declines, Wal-Mart is pushing to recreate the one-stop shopping experience at its super centers, an area it had dominated since the 1990s. That could help it lure shoppers who don't want to drive around to multiple stores.
To bring back disaffected customers and draw new ones, the chain is in the middle of a massive effort to restock shelves with items it had stopped carrying when it was trying to clean up its stores. Groceries are mostly restocked. Now it's working on the rest of the store.
---