EBay sues Google over stolen secrets, poached employees
EBay sues Google over mobile payment technology: PayPal's parent company, eBay, is suing Google after Google allegedly poached eBay executives in an effort to better understand PayPal's mobile payment strategy.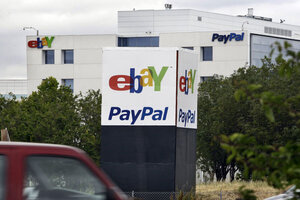 Paul Sakuma/AP
Google Inc.'s ambitious plan to supplant credit cards with smartphones has thrust the Internet search leader into a legal tussle with online payment pioneer PayPal, which contends Google stole its ideas by hiring away two key executives.
PayPal painted a picture of betrayal and corporate espionage in a lawsuit filed late Thursday in a California state court, just hours after the unveiling of the "Google Wallet" payment service in New York.
The 28-page complaint alleges the service evolved from research that eBay Inc.'s PayPal had been working on for the past decade.
PayPal fingers two central culprits in the intellectual heist — one of its former executives, Osama Bedier, and former eBay executive Stephanie Tilenius.
In its response Friday, Google contends it merely identified talented candidates to run its mobile payments service and then made them offers that proved too tempting to refuse.
"Silicon Valley was built on the ability of individuals to use their knowledge and expertise to seek better employment opportunities, a principle recognized by both California law and public policy," Google spokesman Aaron Zamost said. "We respect trade secrets, and will defend ourselves against these claims."
---