Stocks plunge amid global recovery fears
The Dow plummeted by more than 2 percent on Wednesday, losing about 279 points, after Moody's cut Greece's bond ratings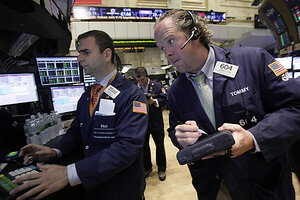 Richard Drew / AP
By Abby Schultz and JeeYeon Park, CNBC.com
Stocks sank more than 2 percent Wednesday, following several economic reports that confirmed a struggling recovery and after Moody's downgraded Greece's bond ratings deeper into junk status.
The Dow Jones Industrial Average plunged 279.65 points, or 2.22 percent to close at 12,290.14.
Financial stocks led the blue-chip index lower, including Bank of America and JPMorgan. Multinationals Caterpillar and Alcoa also slid on fears of a global slowdown.
The S&P 500 slipped 30.65 points, or 2.28 percent to end at 1,314.55.
The Nasdaq fell 66.11 points, or 2.33 percent to finish at 2,769.19.
The CBOE Volatility Index, widely considered the best gauge of fear in the market, surged 18.45 percent, to end at 18.30.
The Dow and S&P have seen the biggest drops since August 11, 2010 and are now on pace for a fifth straight week of losses. The Nasdaq saw its worst first day of the month since October 2009. All 10 key S&P 500 sectors dropped, led by financials, materials and industrials.
---