Stock market moves lower
Stock market slide led by airlines and banks. Friday's dismal job report and other evidence of a weak economy are weighing on stock market sentiment.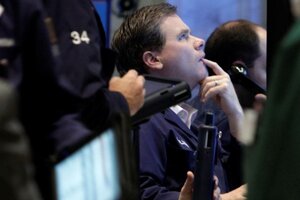 Richard Drew/AP
NEW YORK – Stocks were trading lower Monday morning after losing ground for five straight weeks. Among those taking a slide were airlines, banks and a cigarette maker.
Economic worries continue to weigh on markets. Airline stocks were sharply lower after an industry group cut its estimate for profits this year by half, blaming disasters in Japan, unrest in the Middle East and higher fuel prices.
Delta Air Lines Inc. and American Airlines' holding company AMR Corp. fell more than 2 percent. United Continental Holdings Inc. dropped 1.7 percent. The International Air Transport Association estimates airlines will earn about $4 billion this year, down from $18 billion last year.
---