Oil, stocks on downhill slope
Oil, stocks, and the economy faltered this week, with oil poised to drop in the lead-up to an OPEC meeting.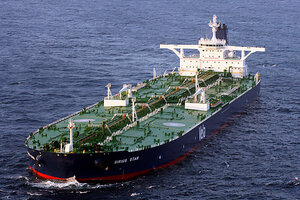 William S. Stevens/US Navy/AP/File
Oil fell Monday in thin and choppy trading on raised expectations OPEC will raise production targets this week and concerns about the economic outlook.
Worried that oil prices near $115 a barrel are hitting economic growth, Gulf producers including Saudi Arabia favor an increase in output when the Organization of the Petroleum Exporting Countries meets on Wednesday.
OPEC delegates gathering in Vienna said a deal to do more than close the gap between the official output target and actual production -- about 1.4 million barrels per day -- could prove difficult due to opposition from price hawks such as Iran and Venezuela.
Oil prices leading up to the OPEC meeting have been fairly rangebound, with Brent crude trading between $114 to $117 a barrel over most of the past two weeks.
Brent crude for July delivery fell $1.36 to settle at $114.48 a barrel, the weakest close in nearly two weeks, in light trading that saw volumes about 25 percent below the 30-day moving average.
U.S. July crude fell $1.21 to settle at $99.01 a barrel, the lowest close in two weeks, with trade volumes about 30 percent below the 30-day moving average.
DOLLAR, STORMS
---