Debit card fees: Senate discusses limiting swipe costs to stores
Debit card fees are the topic of debate in the Senate on Wednesday. Some lawmakers oppose a proposal from the Federal Reserve to lower the debit card fees that stores must pay when a card is swiped.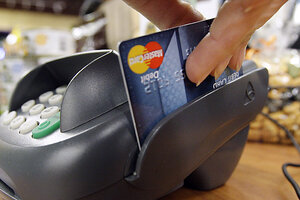 Elaine Thompson / AP / File
WASHINGTON (AP) — Lawmakers on both sides of a battle over debit card fees used populist-style appeals on Wednesday as the Senate neared a vote on whether to block a Federal Reserve plan to lower the fees that stores must pay banks each time a shopper swipes a debit card.
Financial institutions and their supporters on Capitol Hill have been fighting a Fed proposal to cap, at 12 cents, the fee stores must pay the banks each of the 38 billion times that shoppers use debit cards every year.
Those fees currently average about 44 cents per swipe, transactions that earn banks and credit card companies $16 billion a year, the Fed says.
The battle has pitted banks against merchants, two industries that lawmakers hate to cross because of their influence back home and their campaign contributions.
With a showdown voted slated for later Wednesday, the Senate's chief proponent of lowering the swipe fees, Sen. Richard Durbin, D-Ill., said that taxpayers had helped banks "in their darkest hour," a reference to the $700 billion financial industry bailout of 2008. He said banks showed their gratitude by showering huge bonuses on their executives.
"Honestly, are we going to stand here and say we can't protect small businesses across America struggling to survive?" said Durbin, the Senate's No. 2 Democratic leader.
Responding later, a leader of the drive to prevent the Fed from capping the fees also sought to appeal to everyday Americans, saying he was fighting for small community banks and credit unions, not the nation's biggest financial institutions.
---