NFL lockout: Small businesses begin to sweat
NFL lockout could mean smaller revenues for businesses that rely on training camps. NFL lockout would have to last seven more weeks to begin affecting training camp.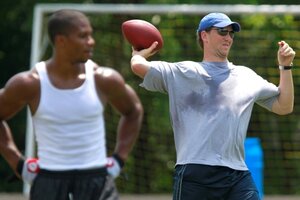 Julio Cortez/AP
MINNEAPOLIS – Jake's Stadium Pizza has been a fast-food fixture on the Minnesota State University campus for nearly four decades. This summer, they're cooking that thin crust with crossed fingers in Mankato, Minn.
The NFL lockout, now headed toward its fourth month, is threatening a revenue-driving, profile-raising event for this small, family-owned business: Vikings training camp.
"We're hoping they get it done, because it's not just us. It's the whole state that will suffer," said Wally Boyer, the owner of the joint where players from Jim Marshall to John Randle have recuperated after many a draining workout. Fans, too, have long made that familiar walk down Stadium Road after watching practice to fill up and cool off.
If the work stoppage lingers long enough to keep teams holding traditional training camps, the hit would be felt far beyond Minnesota, and it wouldn't just be about losing money.
In upstate New York, the Jets have trained on the SUNY Cortland campus the last two years.
---