Oil stocks down, but oil prices plunge anyway
Oil stocks in the US saw a big drop. But traders, focused on the stalling economy and rising dollar, ignored the oil stocks report and sent oil prices to their lowest level since February.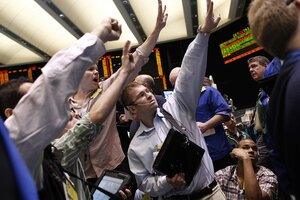 Shannon Stapleton/Reuters/File
NEW YORK – Oil slid more than 5 percent Wednesday, as signs of further economic weakness fed demand worries and a rising dollar also weighed, triggering technical sell-stops and sending U.S. crude to its lowest level since February.
U.S. crude weakened early on data showing a rise in core inflation and shrinking New York manufacturing. It succumbed to intensifying selling pressure as it broke below the 150-day moving average and $95 key support. That eradicated brief gains after a big drop in weekly U.S. crude stocks, reported mid-morning.
``It's a rush for the exits. The market has been overvalued for some time now...the Brent market has been a bubble and the bubble is bursting today,'' said Tim Evans, energy analyst at Citi Futures Perspective.
``In my opinion, WTI would be fairly valued at $85 a barrel and Brent at $90 a barrel,'' Evans added.
The slump came as the U.S. dollar extended gains for its biggest daily rise since September, with the dollar index up 1.8 percent, while the S&P 500 stock index tumbled by more than 1.6 percent to its lowest level since March.
The euro slid against the dollar and was on track for its biggest daily percentage drop in 10 months, as investors fretted about the Greek debt crisis.\
---