Stanley Cup Game 7: Is a ticket worth $3,000?
Stanley Cup Game 7 will be especially hard to see in person because tickets in Vancouver are in short supply. Instead of 2,500 tickets available for Game 6 in Boston, one outlet reports having only about 500 tickets for the decisive Stanley Cup Game 7.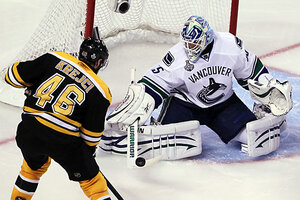 Jonathan Hayward/The Canadian Press/AP
If you want to go to any game, it's easy to see how much you're going to pay. You can go to ticket aggregator sites like FanSnap and SeatGeek or hit upStubHub. You can also take your pick on where you want to sit thanks to the secondary market. Choose any game you want to go to, including championship games, and you'll almost always find a couple thousand tickets available.
That's hasn't been the case with Vancouver Canucks tickets for the Stanley Cup Finals. Vancouver, like its Canadian counterparts Ottawa and Edmonton, does not have the same type of robust secondary market sales.
In fact, according to a StubHub/NHL study, the Canucks had the second fewest tickets available this season on the retail market, only bested by the Senators. That obviously had its affect on price. StubHub says that Canucks fans paid an average of $155 a ticket for games during this season, which is the fourth highest price in the league, behind the Penguins, Maple Leafs and Canadiens.
Powerful brokers in sports cities usually have hundreds of tickets to each game. But one insider estimated that no single broker owns more than 75 Canucks tickets. On top of the supply issue, now add that Wednesday is a do-or-die Stanley Cup Game 7 in Vancouver against the Boston Bruins.
---