Home building, jobs reports push Dow higher
Despite concerns that the Greek debt crisis might spread to the US, stocks rose on Thursday, with the Dow gaining about 64 points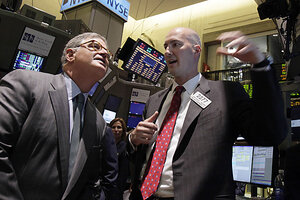 Richard Drew / AP
NEW YORK (AP) — Better-than-expected reports on home building and jobs pushed two of the three major stock indexes higher Thursday. The broader market ended mixed.
The pace of new home construction quickened last month and the number of people who applied for unemployment benefits fell last week to 414,000, more of an improvement than economists expected. Weekly applications for unemployment have been over 400,000 since April, a rate that suggests job growth is still slow.
Worries that Greece's debt troubles could spread continued to weigh on financial markets. The dollar and U.S government bonds rose as traders moved money into safer investments.
The Dow Jones industrial average gained 64.25 points, or 0.5 percent, to close at 11,961.52. The Dow is now slightly higher for the week.
The S&P 500 rose 2.22, or 0.2 percent, to 1,267.64. The Nasdaq composite lost 7.76, or 0.3 percent, to 2,623.70. The two are less than 1 percent lower this week.
The yield on the 10-year Treasury note fell to 2.92 percent, the lowest since November, from 2.97 percent late Wednesday. Bond yields fall when prices rise.
Home Depot Inc. rose 1.8 percent following the better than expected report on home construction and an upgrade by analysts.
Kroger Co. rose 4.5 percent after the supermarket chain's earnings rose as shoppers paid more for groceries and gas. Winnebago Industries Inc. tumbled 20 percent after the motor home company said profits sank nearly 80 percent in its last quarter.
---