Dodgers settlement: a one-day trial over ownership
Dodgers settlement hinges on Major League Baseball approving a 17-year TV deal. The Dodgers settlement involves who owns the team in divorce proceedings.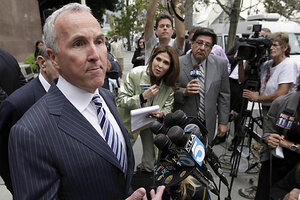 Nick Ut/AP
LOS ANGELES – Jamie and Frank McCourt agreed Friday to have a one-day trial to determine if title to the Los Angeles Dodgers is in Frank McCourt's name or if the team should be considered community property in their divorce and then sold, the former couple and their attorneys announced.
The agreement anticipates Major League Baseball's approval of a 17-year TV contract between the Dodgers and Fox, Frank McCourt said outside court. That deal has been reported to be worth $3 billion and Frank McCourt would receive $385 million up front.
MLB spokesman Pat Courtney declined comment. Dennis Wasser, an attorney for Jamie McCourt, hopes the TV deal will be finalized early next week.
Frank McCourt expressed extreme confidence in the outcome of the trial set for Aug. 4 and he said that he and his former wife had already agreed on what would happen in either outcome.
He said all other issues in the divorce were settled.
The McCourts' lawyers had spent several sessions in front of Superior Court Judge Scott Gordon to reach an agreement and they worked throughout the night before striking a deal shortly before Friday's hearing began.
In December, Gordon deemed invalid a postnuptial marital agreement which gave Frank McCourt sole ownership of the Dodgers. That cleared the way for Jamie McCourt to seek half the team under California's community property law.
Jamie McCourt had asked Gordon to order the sale of the team.
---