Skype: Dutch House says mobile carriers can't limit its use
Skype users win victory as Dutch House of Representatives passes law that mobile carriers can't block or charge extra for Skype and other alternatives. Senate vote seen as formality.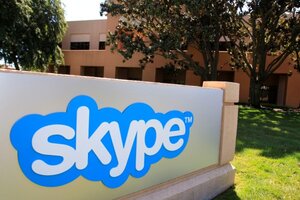 Paul Sakuma/AP/File
AMSTERDAM – Dutch consumers may soon be able to use Skype and other Internet-based services on their smartphones for no more than their basic subscription costs under a new bill passed by Parliament Wednesday.
In a ruling "net neutrality" advocates say may set an example in Europe, mobile service providers will not be able to give preferential treatment to their own services, or block or charge extra for using cheaper alternatives to their own voice or text messaging services. The bill must still be passed by the senate, although that is usually a formality.
Telecommunications companies including Vodafone, T-Mobile and the former Dutch state telecom Royal KPN NV had lobbied against the bill, claiming it may result in higher subscription prices and make it impossible to offer quality guarantees for key services.
However, advocates argued it will ensure telecoms don't abuse their control over mobile networks to stifle competition and innovation. The Dutch bill was endorsed by consumer groups, "digital freedom" activists, and is seen as benefiting big software and content companies, notably Facebook, Skype owner Microsoft, and Google.
Although net neutrality has been debated by policy makers and the industry for a decade, the key provisions of the Dutch bill took shape in just two months as politicians reacted swiftly to a public outcry over telecom KPN's pricing policies.
"When it hits the wallet, it hits home," said Daphne van der Kroft of Bits of Freedom, an organization that opposes online restrictions.
In April, KPN announced poor first quarter earnings as customers using smart phones flocked to a messaging service called "WhatsApp." WhatsApp enables phone users with a mobile Internet subscription to send messages for no additional charge, sidestepping KPN's lucrative SMS business. In response, KPN chief executive Eelco Blok announced plans to charge customers extra for using Skype and WhatsApp.
The move backfired spectacularly.
Customers were outraged, and many began questioning for the first time how the company even knew which applications they were using on their phones.
Internet providers routinely monitor traffic on their network for a range of reasons, including removing bottlenecks, protecting customers from viruses and spam, and adhering to law enforcement demands.
But to track which customers are using WhatsApp or Skype, KPN would need to look relatively carefully at the data being transferred, using a practice known as "deep packet inspection."
KPN argued that's common in the industry and it doesn't eavesdrop on customers.
But the Netherlands' consumer rights watchdog demanded an investigation into possible privacy violations, and politicians, reading public sentiment, moved to stop the plan. One of the bill's co-authors, Labor MP Martijn van Dam, compared KPN to "a postal worker who delivers a letter, looks to see what's in it, and then claims he hasn't read it."
---