Natural gas: Shale firms' balance sheets raise 'red flags'
Natural gas shale companies' financial statements don't add up, says Dallas Fed advisory member. Companies have high leverage, little cash, and very low estimates for natural gas extraction, she says.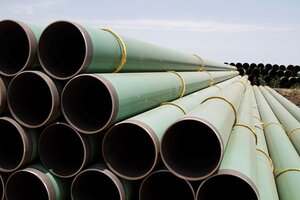 Pat Sullivan/AP/File
The numbers on major shale companies financial statements do not add up, said Deborah Rogers, advisory council member for the Federal Reserve Bank of Dallas.
"I have to say that after all the work I've done I think there is some sleight of hand in the balance sheets," said Rodgers in a CNBC interview.
Rogers, a former stock broker for Merrill Lynch, started questioning shale companies' financial statements after listening to a speech in 2009 by Aubrey McClendon, CEO of Chesapeake Energy, one of the largest shale gas companies.
"He (McClendon) was throwing out some numbers and I thought these numbers aren't adding up. So I went home and started doing some research and what I found that was there were a number of anomalies within the balance sheets, the financial statements of these companies that raised a lot of red flags for me," said Rodgers.
Rodgers said she began researching predominantly the shale companies in the Barnett region and North Texas, regions known in the industry for having large reserves of natural gas. But she said as she began to crunch the numbers she saw a suspicious trend.
"I was seeing basically the same picture across the board, virtually no cash on the balance sheets, very highly leveraged," said Rodgers.
---