Health insurers owe Fla. $3 million
Health insurers that overstated how much money they spent on patients owe the state millions. Florida relies on private health insurers for some state-run programs.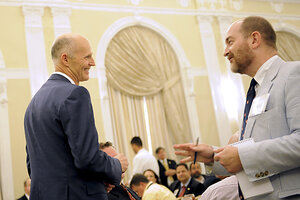 Brian Blanco / AP
MIAMI (AP) — Private health insurers overstated how much they spent on patient care and owe Florida health officials $3.1 million in refunds for a government children's health care program, according to a recent federal report.
Under a joint state-federal program called the State Children's Health Insurance Program, Florida's Agency for Health Care Administration pays private insurers to provide health insurance for families who aren't eligible for Medicaid but can't afford private insurance. Insurance companies are required to spend at least 85 percent on medical services. If an insurer spends less, it must refund 50 percent of the shortfall to the state.
But between 2003 and 2007, eight of roughly two dozen reports from private health insurers inaccurately reported how much was spent on patient costs and avoided paying state and federal health officials the difference, according to a report by the Department of Health and Human Services' inspector general. Florida health officials should have received $3.1 million in refunds during that time. The report recommends the state repay the federal government its share — $2 million — and increase oversight going forward.
The inspector general report blamed the mistakes on the state's lax oversight, saying the state agency and its contractor, Florida Healthy Kids Corporation, lacked policies requiring staff to review reports and "reconcile them to supporting records."
The findings were sent to HHS authorities for "any action deemed necessary," according to the report.
---