Can corporate mergers help save the weak US economy?
Domestic merger and acquisition deals totaled $584.4 billion through June – the highest total since before the financial crisis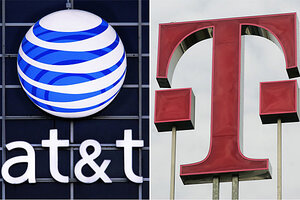 AP / File
The plodding US economy had one significant bright spot in the first half of the year—a bustling mergers and acquisitions market that stands a good chance of continuing through the second half.
Though the activity was a bit front-loaded in the first quarter, domestic M&A totaled $584.4 billion through June, the best since the pre-financial crisis days in the first half of 2008 and a 41 percent increase over 2010, according to Dealogic.
A number of individual industries—mining, for one—set records, taking advantage of low financing costs and cheap valuations either to expand their operations or swallow up weaker competitors.
Health care led the way for deals in the US, with $71.6 billion in M&A, led by the $21.5 billion Johnson & Johnson acquisition of Synthes.
With the twin burdens of 9.1 percent unemployment and anemic gross domestic product growth, keeping a deal-friendly environment going could be key to salvaging economic prospects through the rest of the year.
"Companies are pretty cheap right now," says Randy Warren, chief investment officer at Warren Financial Service, in Exton, Pa. "The valuations are not stretched. They look attractive for acquisition purposes."
To be sure, M&A is no panacea for a sick economy.
---