Credit cards see more profits, less late payments
Credit cards in the US are being paid off in full more often this year, leading to healthy gains by the credit card companies.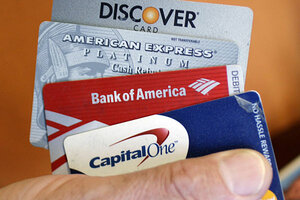 Paul Sakuma/AP/File
The top U.S. credit card companies are seeing a boost to their bottom lines as consumers are getting better about paying their bills on time.
Five of the top six card issuers on Friday said the rates at which their customers defaulted on their accounts fell in June. Bank of America Corp. reported the biggest drop in defaults, with JPMorgan Chase & Co. and Discover Financial Services also showing significant improvement.
Late payments were also down. Only Capital One Financial Corp. saw an uptick in payments late by 30 days or more, and that increase was tiny.
Among the top six, only Citibank had not yet submitted its monthly regulatory filing detailing card performance for the month. Its parent, Citigroup Inc., reported second-quarter results earlier in the day, however, giving some insight into its card performance.
The latest data followed reports that show credit card users have far better payment habits than a year ago, when the industrywide charge-off rate peaked at 10.9 percent, according to Federal Reserve data. For the first three months of this year, that rate was down to 6.96 percent — a significant improvement, but still well below the industry average of 3.82 percent before the recession, which indicates banks will benefit further as default and delinquency rates further improve.
And they should continue to do so. Banks have already written off the balances of most customers expected to default, and those individuals have a hard time getting new credit.
The impact of the improved payment habits was reflected in banks' second-quarter financial results this week.
---