Zillow real estate site reaps big rewards with IPO
Zillow sees a big return from Wall Street on Wednesday during the website's initial public offering. Despite a down US housing market, Zillow appears to have a bright future, according to investors.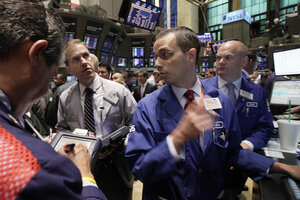 Richard Drew/AP
Investors set aside housing market doldrums and rushed to grab shares of real estate website Zillow on Wednesday, valuing the company at as much as $1.6 billion.
Zillow Inc., which has never made a profit, is yet another beneficiary of strong investor demand for the latest crop of Internet stocks. Many of the recent market debutantes provide social networking, online games or search. Zillow's shares tripled in their trading debut on the Nasdaq stock market. Zillow had set a price of $20 for its stock late Tuesday. The shares rose as high as $60 before settling back to close at to $35.77, valuing the Seattle-based company at about $950 million.
The weak housing market did not hurt Zillow's IPO. Figures released Wednesday show that Americans are buying homes at the weakest pace in 14 years.
Zillow's initial public offering follows filings by high-profile Internet companies ranging from daily deals site Groupon Inc., the professional networking service LinkedIn Corp., along with Zynga Inc. best known for the online game "FarmVille." Though these Internet-based companies are generating a lot of IPO euphoria, but the attention they receive on their initial day of trading has not guaranteed success. Pandora Inc., the online radio service, has seen it shares fluctuate wildly since going public on June 14. Pandora's shares are now trading at $17.60, 10 percent above their offer price.
---