Camaro now outselling Mustang? Vroom.
Camaro combines new look with solid feel to attract buyers. In its first five months, Camaro outsold Mustang 40,000 to 30,000 units.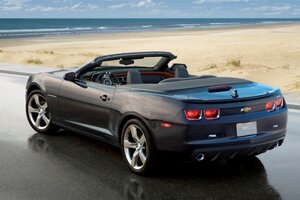 GM/Wieck/Newscom/File
For the first time since anyone can remember, the Chevrolet Camaro is outselling the Ford Mustang. According to Automotive News, Chevy moved 40,275 Camaros for the first five months of 2011. During the same period, Ford sold 30,206 Mustangs.
One could suppose that the Camaro's new shape is still fresh when compared to that of the Mustang, whose look remains relatively unchanged. In the world of sport coupes, new designs always garner more buyers than do the familiar.
And boy, is the Camaro a looker.
Its design reveres it roots without being beholden to them. Instead, it moves the styling needle with a menacing futuristic scowl and burly stance. The 1969 Camaro — which was the modern car's inspiration — looks dainty by comparison.
And for 2011, the Camaro's top goes down in less than 20 seconds.
If anything, the Camaro convertible is better looking than the coupe. With the top lowered, you get to see the sensuous, flowing body sculpting. It's quite alluring, with a graceful air missing from '80s and '90s Camaros.
The droptop Camaro comes in two flavors: LT and SS. The former uses GM's ubiquitous 3.6-liter double-overhead-cam V6 rated at 304 horsepower. The latter has GM's legendary 6.2-liter V8 rated at 400-hp with a six-speed automatic transmission, 426-hp with the six-speed manual. Six-cylinder buyers get the same transmission choices.
All of the car's important bits are placed on a platform originally developed for the Pontiac G8 sedan.
Among the options on the LT test car was a $1,500 RS Package with 20-inch aluminum wheels, rear spoiler, unique tail lamps and high-intensity discharge headlamps.
Like the coupe, the V6 can reach 60 mph in 6.1 seconds. OK, it's not the V8's 4.7 seconds, but fast enough if you're cruising with the top down. Besides, giving up 1.4 seconds allows you to enjoy this car's style while yielding 18 mpg city, 29 mpg highway.
That's not bad, but try both models before you buy. The V6 certainly is fast on paper, but for some reason, it doesn't feel so when driving. The driveline has a surprisingly sedate feel, especially when compared to the Ford Mustang's V6.
But there's no quibbling with the way this rear-driver handles.
---