Nintendo posts deep loss, shares plunge
Nintendo posted its latest quarter's dire results, causing traders to dump the stock. The sell-off sent the stock down more than 20 percent.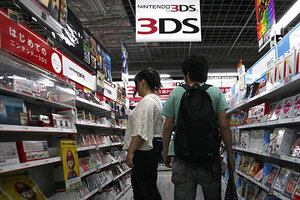 Shizuo Kambayashi/AP
Shares of Nintendo Co. shed a fifth of their value Friday after the Japanese video game giant posted a deep loss in the latest quarter, cut its full-year forecasts and slashed prices on its new 3DS handheld device.
The sell-off sent the stock down more than 20 percent to 11,190 yen as investors rushed to unload a company struggling to regain momentum. It opened the trading day ask-only, meaning the market was overwhelmed with investors wanting to sell.
Nintendo on Thursday posted a net loss of 25.5 billion yen ($324 million) in the April-June period, worse than the 25.2 billion yen loss a year earlier. For the fiscal year through March 2012, Nintendo expects net profit of 20 billion yen, down 82 percent from its previous outlook, on sales of 900 billion yen.
The Kyoto-based company blamed its lackluster sales on a dearth of hit titles for the Wii and 3DS, as well as a strong yen.
To fuel momentum, Nintendo decided it needed to dramatically drop prices just five months after it launched the 3-D version of its DS handheld device to high hopes. The move underscores how quickly the company's fortunes have turned since the Wii revolutionized the industry and flew off store shelves.
The 3DS will cost 15,000 yen in Japan starting Aug. 11, down from 25,000 yen. In the U.S., the price drops to $169.99 from $249.99 on Aug. 12. Nintendo does not set suggested retail prices for Europe but said it would lower wholesale prices by about a third.
---