Bankruptcy 'last resort' for Rhode Island city
Bankruptcy has claimed another victim - this time the entire city of Central Falls in Rhode Island. It was the last resort for the financially troubled city.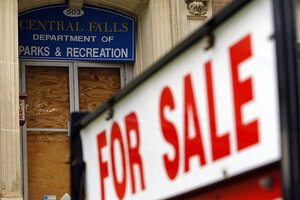 Brian Snyder/Reuters
The state-appointed receiver overseeing Rhode Island's cash-strapped Central Falls on Monday filed for bankruptcy on the city's behalf in an effort to solve its fiscal crisis.
Receiver Robert G. Flanders described the step as one of last resort after city taxes had been raised and services cut "to the bone," and after municipal retirees and current workers failed to agree on deep — but voluntary — cuts to their pensions and benefits.
"From the ashes of bankruptcy Central Falls will rise again," Flanders said at a news conference at City Hall.
Flanders had earlier indicated that seeking Chapter 9 bankruptcy protection in federal court — a rare step for a municipality — might be the only option without major concessions from retirees and union groups. Retirees, for instance, were asked to take cuts of up to 50 percent to their pensions and to contribute a sizable amount to their health benefits. Only 12 of 141 retirees agreed to Flanders' proposal before last Thursday's deadline, and of those 12, nine would not have seen their pensions reduced.
With the city now seeking bankruptcy protection, Flanders said he plans to reduce pension benefits beginning in late August anyway; the next set of payments will reflect "at least" the cuts he outlined to retirees last month. Those cuts are designed to save about $2.5 million.
Flanders also asked the federal court to immediately reject collective bargaining agreements with police and fire department employees. In addition, he said city workers will face layoffs.
He described bankruptcy as the only prudent option and said it will allow Central Falls to "reinvent itself as a viable community."
---