Asian stocks fall, indicate rush to safety
Asian stocks fell more than 5 percent Friday, after the worst day on Wall Street since December 2008.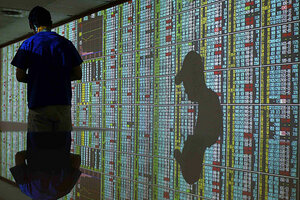 Nicky Loh/Reuters
Asian stocks tumbled as much as 5 percent on Friday after panic triggered the worst sell-off on Wall Street since the global financial crisis, prompting investors to slash positions and scramble for cash and government bonds.
Fears that the U.S. economy is sliding back toward recession and a recent jump in Italian and Spanish bond yields towards danger levels have driven investors to seek cover.
U.S. stock futures were slightly higher after major U.S. markets fell by 4-5 percent overnight, but employment figures due later in the day could trigger further selling if the jobs picture disappoints.
Complicating matters was that Japan and Switzerland have intervened this week to weaken their currencies, which were considered the safest in the developed world. That has caused some safety-seeking investors to think twice about stashing money there when financial market volatility is spiking.
So far, retail investors were participating in the heavy selling but institutional equity investors in Asia were not completely liquidating their positions, instead continuing to cut riskier bets and protect their portfolios.
"What you're seeing is a shakeout of all the money that was put to work in the hope that 2011 turns out like last year, where you saw a nice bounce around the same time," said a Hong Kong-based multi-strategy hedge fund manager.
"That could still happen but with the losses that people have already taken this year, looks like no wants to take the risk. It's about preserving capital now."
---