Global markets fall, US markets recover, leaving investors jittery
Global markets fell for the eighth day on Friday, while the US markets recovered from Thursday's plummet. As global markets drop, fear grows that the global economy could slip into another recession.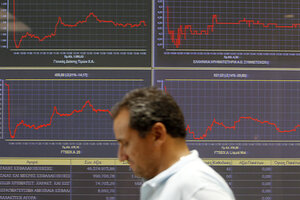 Thanassis Stavrakis / AP
World stocks fell for an eighth day but U.S. stocks gained ground Friday after a dizzying descent that wiped $2.5 trillion off the value of global equities this week and brought back memories of the 2008 financial crisis.
Wall Street stocks recovered from losses of more than 2 percent to trade mostly higher in the afternoon, a day after indexes posted their worst losses in two years. The MSCI's All-Country World Index pared its losses, but was still down 1 percent on the day.
``What you had was a crisis-of-confidence move down, unjustified by the fundamentals,'' said Jeffrey Saut, chief investment strategist of Raymond James Financial, in St. Petersburg, Florida. ``It's like pushing down on a spring. You can only press down so far.''
World leaders moved to address the turmoil, which has been driven by fears the global economy is slipping back into recession and by the inability of policymakers in Europe to extinguish the debt crisis engulfing the region.
As frustration grows at what investors see as the European Central Bank's ineffectual response to the crisis, sources said the bank is demanding that Italy commit to fast-track specific welfare reforms and a constitutional amendment enshrining a fiscal rule before it will buy Italian bonds.
---