Futures market tumbles after S&P downgrade of US
Futures market for US stock fell on Monday after the US credit rating was reduced from AAA to AA+ on Friday. For the Dow, the futures market fell 200 points, S&P 500 futures fell 24 points, and Nasdaq futures fell 44 points.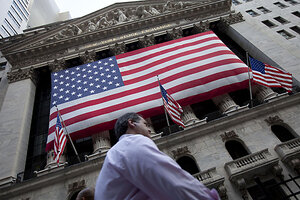 Jin Lee / AP
U.S. stock futures tumbled Monday amid a rout in global stocks after Standard & Poor's downgraded the U.S. credit rating for the first time.
S&P cut the long-term debt rating for the U.S. by one notch to AA+ from AAA late Friday. The move wasn't unexpected, but it comes when investors are already feeling nervous about a weak U.S. economy, European debt problems and Japan's recovery from its March earthquake.
Ahead of the opening bell, Dow Jones industrial futures fell 200 points, or 1.8 percent, to 11,202. S&P 500 futures fell 24, or 2.percent, to 1,173. Nasdaq 100 futures fell 44, or 2 percent, to 2,143.
In Europe, the German DAX index fell 2.3 percent. In Asia, Japan's Nikkei 225 index fell 2.2 percent.
Prices for U.S. government debt, though, rose. That's because Treasurys are still seen as one of the world's few safe investments. The yield on the 10-year Treasury note fell to 2.5 percent from 2.57 percent late Friday. It fell as low as 2.46 percent earlier Monday. A bond's yield drops when its price rises.
But where Treasury prices are at the end of the day will be more important than where they are at the start, Bill O'Donnell, head of U.S. Treasury strategy at RBS Securities, wrote in a report.
---