Oil prices rise as traders mull demand prospects
Oil prices rose after the Fed's announcement on Tuesday that it would hold interest rates low for the next two years. Still, oil prices are down about $18 a barrel since July 22.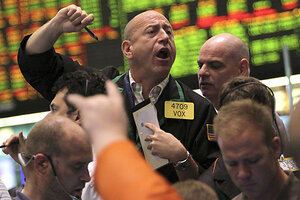 Mary Altaffer / AP
Oil prices rose Wednesday as traders weighed the prospects for stronger global demand against the backdrop of sluggish U.S. and European economies.
Benchmark West Texas Intermediate crude rose $1.75, or 2.2 percent, to $81.04 a barrel in afternoon trading on the New York Mercantile Exchange. Oil is down about $18 a barrel since July 22.
Brent crude gained $2.66, or 2.6 percent, to $105.23 per barrel on the ICE Futures exchange in London.
Oil found some support from the Federal Reserve's decision on Tuesday to keep interest rates low until at least 2013. That could prompt more investors to put their money into commodities like oil while the U.S. economy is in low gear.
The International Energy Agency on Wednesday followed OPEC's lead in trimming its outlook for how much global oil demand will grow this year. At the same time, IEA raised its forecast for 2012. OPEC said Tuesday that demand for oil will grow at a slower pace this year than it previously thought.
Most experts agree however that global consumption of oil will increase this year and next year, and most of the demand will come from China and other regions outside the U.S. and Europe.
---