Efforts to calm European markets mount, but fail
Markets had rebounded by late in the day, but they're still fragile, economists say. Leaders of France and Germany have announced plans to meet next week to discuss Europe's financial troubles.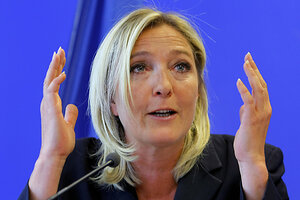 Jacques Brinon / AP
French bankers and officials scrambled to calm nerves on Thursday after two days of whipsaw trading that saw their banks' market value fall and rise by billions of euros.
By late in the day those efforts appeared to settle markets jittery about the health of French banks and the heavily indebted U.S. and European economies. Economists said the rebound remained very fragile.
The leaders of the eurozone's biggest economies, Germany and France, announced they will meet Tuesday to discuss solutions to Europe's financial difficulties.
French President Nicolas Sarkozy's office said that the two will come up with "joint proposals" on the governance of the eurozone before the end of the summer. Chancellor Angela Merkel's spokesman said the meeting would focus on suggestions for how to improve the zone's economic policy and crisis management.
Bank of France head Christian Noyer blamed "unfounded rumors" for plunges in the shares of top banks, including Societe Generale and BNP Paribas, and said the country's financial institutions were sound. The country's market regulator warned of sanctions against anyone who fuels or profits from rumors that fed the sell-off
Noyer said that French banks' first-half earnings "confirmed their solidity in a difficult economic environment" and that the banks' capital cushions were healthy.
---