Short-selling banned in 4 European countries
Short-selling of certain stocks is now forbidden in France, Italy, Spain, and Belgium. The ban on short-selling comes as concerns about Europe's debt worsen.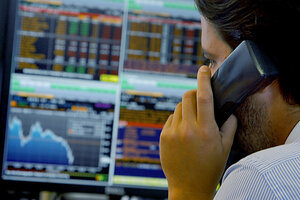 Jacques Brinon / AP
France, Italy, Spain and Belgium are banning short-selling on select stocks amid efforts to calm market turmoil that has sent bank shares gyrating wildly and aggravated worries about Europe's huge debts.
The European Union's markets supervisor, the ESMA, announced the move late Thursday night after boosting surveillance of stormy markets earlier in the day. The move capped two days of whipsaw trading that saw French banks' market value fall and rise by billions of euros.
In a short sale, a trader hopes to make a profit by betting on the decline in the price of a share. The practice has been blamed for contributing to market volatility.
The ESMA said in a statement that the four countries "have today announced or will shortly announce new bans on short-selling or on short positions" as of Friday.
The French market regulator, the AMF, announced late Thursday that it is banning for 15 days net short-selling on 11 stocks, including those of banks Societe Generale, BNP Paribas and Credit Agricole and leading insurers.
---